Get Personalized Home-Insurance Quotes
Comparing Home Insurance. How to Get the Best Rates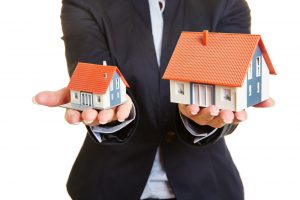 Home insurance is a major part of purchasing a new home. Your house will be one of the largest assets you will ever own, so it makes sense to insure it. However, comparing home insurance quotes is not an easy task. Buying a house is already a stressful job; the last thing you want is more confusion when shopping for insurance.
Many people make the mistake of seeking the cheapest home insurance rates possible, without comparing the coverage and deductibles. You might find insurance quotes that are more inexpensive than others, but don't provide enough coverage to protect your home.
According to Consumer Reports three out of five people in the U.S. are under insured. To make matters worse, they are not aware of how much coverage they require, and are shockingly awakened when trouble comes along.
Comparing insurance quotes can be overwhelming, but fortunately there are several excellent strategies you can use. You can find the best rates by examining the policies, comparing the costs, and evaluating the performance of every insurance firm.
Evaluating Home Insurance Policies
1.      Compare the Coverage Options
Depending on your location and the types of policies on offer, you should have plenty of options when it comes to coverage. However, certain incidents are not covered in standard home insurance policies, and will probably need a separate policy. Consult the insurance agents you are considering and assess your coverage to see what every plan would guard against.
Most policies cover damage resulting from:
Fire
Lightning
Explosions
Smoke
Windstorms
Accidental leaks
Rain
Clogged sewers
Frozen pipes
Faulty heating unit
Mold
Falling objects
Animals
Acts of vandalism
Weight of ice
Construction defects
2.      Check to See What the Policies Exclude
Most home insurance policies offer protection against basic accidents, artificial damages, and some damages resulting from natural causes. However, earthquake damage, flood damage and some other natural disasters are usually excluded from most standard policies. You can buy flood insurance separately either through your home insurance company or via the National Flood Insurance Program.
3.      Study Additional Coverage Options
In addition to excluding some natural disasters, many home insurance policies also leave out sewer backups or mold issues. Some plans do cover those issues, but limit the amount you can claim for the damage.
Ask your insurance provider about including special coverage for those problems, if you feel they might be an issue.
Comparing Prices
1.      Compare the Premium against the Deductible
In insurance, a deductible is the amount your insurance provider subtracts from your covered loss. It's the amount you'll pay out of pocket before your insurer reimburses you for the loss. On the other hand, an insurance premium is the amount you pay monthly or yearly to maintain coverage.
The deductible and premium have a balance. If you opt for a higher deductible, your premium may be lower, and vice versa.
2.      Review the Liability Limit
Home insurance policies provide some personal liability coverage. The coverage protects you if somebody gets injured or their belongings get damaged on your property. However, your insurance policy may have an exclusions page that can deny coverage based on specific situations.
Liability coverage typically doesn't apply to injuries or damages linked to a business or professional activities performed at your home. Additionally, injuries or damages you deliberately cause are also not covered.
Review the conditions and coverage in every policy you come across. If you feel you might require more liability coverage, you might want to consider getting an extra personal umbrella liability plan.
3.      Bargain for a Better Rate
Home insurance rates are not entirely fixed, but at the same time they are not fully flexible. As you shop around for the best rates, you might be able to negotiate with an insurer. Contact different insurance companies to get custom quotes.
Various factors including your profession and credit score might impact your insurance rate. But, some states prohibit the use credit ratings in determining insurance rates, so you should know your rights.
Tell the insurance providers you're considering that you are seeking a better offer. Let them know of the best rates you've seen so far and then ask if they can provide you with a better deal.
Evaluating the Performance of an Insurance Company
Check every insurer's financial rating to get an idea of how well they treat their clients. Many private comparisons utilize financial strength scores to compare a firm's ability to pay claims to their clients in a reasonable time frame.
Furthermore, examine the consumer complaint reports from your state's Department of Insurance.
Also, be on the lookout for insurance fraud. It's illegal for an insurance firm to offer services without a license. A company without a license might give you better rates, but might not be able to reimburse you on a claim as they don't attain the minimum financial requirements.
Finding the best home insurance rates does not have to be complicated. By following the tips above, you should be able to find a policy that fits your needs.