Get Personalized Auto Insurance Quotes
Where Does My State's Auto Insurance Rates Rank?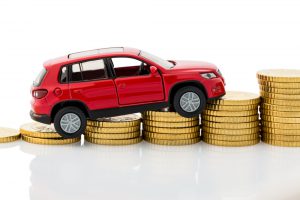 If you've ever insured a teenage boy, you know how painful auto insurance deductibles and premiums can be. One Central Indiana man believed statistics about teen drivers, so his daughters drove "tanks" (old cars with massive front-ends) for several years after getting their licenses.
Sure enough, both girls had wrecks within 6 months of on-the-road driving and both survived. So did the "tanks."
When it comes to protecting your family, auto insurance is priceless, no matter how much it costs. The cost of your auto insurance is based on many personal and geographic factors.
Factors Affecting Car Insurance
Collision coverage pays for vehicle damage caused by crashes, while comprehensive coverage pays for…damage such as theft or flood. ­–moneyunder30.com
The Insurance Information Institute (iii.org) says everything from where you park your car to your driving record impacts what you pay for car insurance. There's also comprehensive vs. collision. If you have an outstanding loan on the car, comprehensive insurance is mandatory.
Age – Your age (not the car's) impacts your car insurance rates. (Actually, the car's age does, too.) Mature drivers have fewer accidents. Very old and very young drivers are more likely to have fender-benders.
Credit-based insurance score – This is a statistic reflecting the likelihood of you filing a claim and the approximate cost of that claim.
Driving history – If you've had accidents or traffic tickets, you'll pay more than other drivers. If you're a new driver, even with a clean slate you'll pay more for car insurance.
Gender – Women are better drivers. There are exceptions to every rule, but statistically, they get into fewer accidents, get fewer DUIs (driving under the influence), and when they do have accidents, the accidents themselves are usually less serious than men's.
How often you drive – Used car salespeople love to say: "This car was driven to church just once a week by a little old lady." Auto insurance rates are similar. If you only putter around your small town, you might have lower rates. If you're a road warrior, your accident odds increase commensurate with your commute.
Type of car – The likelihood of theft depends on the type of car you drive. Also, the cost of repairs (Toyotas are among the least to repair, BMWs are among the most expensive.) The safety add-ons you opt for could lower your premiums.
…And finally, the cost of your car insurance is based on location. Do you live in a rural area or The Big Apple? Do you live in California or Oklahoma?
Location, Location, Location: Car Insurance by State
According to the 2019 State of Auto Insurance Report…residents of Michigan endure the highest car insurance rates in the nation at an average of $2,693 per year. –Forbes
Car insurance rates are higher than they've ever been, but the State of Michigan is fighting back. In May 2019, Michigan legislature passed a bill to cut auto insurance premiums. The Zebra State of Auto Insurance 2019 report analyzes more than 61 million car insurance rates.
Here are the annual rates by state:
Alabama $1,387
Alaska $1,198
Arizona $1,295
Arkansas $1,496
California $1,815
Colorado $1,682
Connecticut $1,550
Delaware $1,828
District of Columbia $1,496
Florida $2,059
Georgia $1,547
Hawaii $1,081
Idaho $1,018
Illinois $1,222
Indiana $1,150
Iowa $988
Kansas $1,476
Kentucky $1,898
Louisiana $2,339
Maine $896
Maryland $1,327
Massachusetts $1,277
Michigan $2,693
Minnesota $1,288
Mississippi $1,537
Missouri $1,410
Montana $1,387
Nebraska $1,284
Nevada $1,915
New Hampshire $1,105
New Jersey $1,671
New Mexico $1,352
New York $1,688
North Carolina $947
North Dakota $1,325
Ohio $1,032
Oklahoma $1,560
Oregon $1,393
Pennsylvania $1,390
Rhode Island $2,110
South Carolina $1,369
South Dakota $1,342
Tennessee $1,427
Texas $1,827
Utah $1,209
Vermont $1,075
Virginia $918
Washington $1,205
West Virginia $1,420
Wisconsin $1,070
Wyoming $1,375
The five states with the highest average annual premiums are:
Michigan
Louisiana
Rhode Island
Florida
Nevada
If you live in one of these 5 cities, you're paying even higher annual premiums:
Detroit, MI: $5,464
New Orleans, LA: $3,686
Hialeah, FL: $2,913
Miami, FL: $2,913
New York, NY: $2,814
Residents pay the lowest average annual premiums for auto insurance in these states:
Maine
Virginia
North Carolina
Iowa
Idaho
If you live in one of these 5 cities; you're paying lower annual premiums:
Winston-Salem, NC: $846
Boise, ID: $913
Greensboro, NC: $936
Raleigh, NC: $948
Durham, NC: $951
You Have Car Insurance Choices
Living in America, we have many choices. Your choice of car insurance company has a lot of deciding factors, too. You want a company you can trust. You want an insurance agent that is professional, respectful, and caring. To get the best quote, you need to do your research and shop around. Click below to see how much you could save.